In the video, Madi talks about her experience with the Geneva study tour. She is on a train from Zurich to Geneva. May 2019
---
What do we do in Geneva?
We attend briefing sessions at the United Nations and a number of NGOs. Most of these briefings occur in the morning and afternoon, with evenings largely free for exploring the city of Geneva. AND—we travel to Germany for 2 days.
Can I earn course credit for the study tour?
Yes. The study tour is an integral part of EC280 International Organizations Seminar. The course is offered in the spring semester, and meets once a week on Mondays, 11:00am — 12:15pm.
The course may serve as an elective for:
economics major
financial economics major
economics minor
business administration minor
international studies minor
business administration major with economics concentration
international business major with economics concentration
Who can join the study tour?
The course is open to all majors and classes (freshmen to seniors). What is necessary is a keen interest in global issues, and a desire to travel and make friends abroad.
How much does the program cost?
The program fee for the 2024 study tour is $2,400, which includes airfare (US to Geneva round-trip), lodging in Geneva, travel within Geneva, and round-trip train fare from Geneva to Konstanz, Germany. Lodging in Konstanz is also covered. Other expenses— food, entertainment, gifts, etc.—are the student's responsibility.
A non-refundable deposit of $400 is due by Sept 15. Make payments at https://securelb.imodules.com/s/250/index.aspx?sid=250&gid=1&pgid=859&cid=2221&post_id=0
---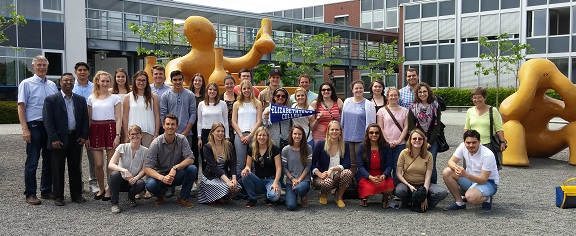 Elizabethtown students with German friends in Konstanz